Acmena smithii 'Minor'
Product Code: ACMSM
A great hardy Lilly Pilly for 'Formal' or 'Informal' fence line screening.
This medium sized shrub will grow to approximately 4 – 6mts but will
clip beautifully at 2 – 3mts. With deep green foliage with bronze coloured new growth, it will make a great addition to any garden.
'Minor' has glossy green leaves and showy pink-purple berries follow creamy-white flowers if untrimmed. Full sun and regular trimming will encourage very colourful new growth.

* Login to view trade price and place order. Retail customers, please refer to Where to Buy.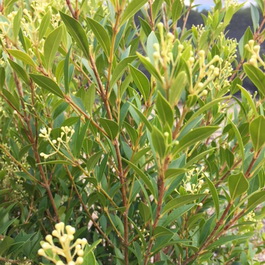 Plants purchased from TGA Australia are guaranteed to be true to type and in healthy condition at the time of pick up/delivery.
As we have no control over matters such as planting, soil preparation, watering etc., no guarantee can be offered in respect to a trees growth or development.
TGA Australia accepts no liability for damage caused to any fences, building, plants, pipes, conduits or cables, or structures by any plants supplied by TGA Australia.